Hello Friends! :) I hope you've had some fabulous things going on this week! Be sure to grab a button, link up, and share your fabulous things of the week!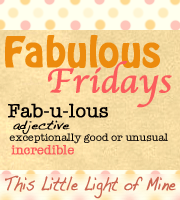 Some of the fabulous things in my life this week are:
Pandora - now I'm sure some of you have been using this forever, BUT, I am new to it. And loving it. So much easier to workout when I have a plethora of awesome tunes to listen to. All I gotta do is "create" a radio station of an artist I love, and they do the rest, IE, play all kinds of songs, in the same genre of the person I like. Plus, I can give the thumbs up, or down, to any song, which helps them gather my tastes and pick music I am more guaranteed to enjoy. Ahhh. Technology.
A weekend off - My husband has been working A LOT of over time lately. BUT, as of now, it looks as if we will have this weekend together.
I can't wait!
We will attend our young adults fellowship at church tomorrow night, and then, who knows what for Saturday. Maybe just a lazy day. :)
My in-laws celebrated 26 years of marriage this week!
Altamonte Springs Trip - Okay, so the trip itself was NOT fun, as I had the wrong original address, thus leading me to the wrong spot, BUT, I eventually got to the salon I needed to go to, got my hair cut, and then bought myself this dress at the local XXI, as a reward for the stresses of the trip. :)
FBCH - I went on a monthy trip with my young adults class at church to the children's home. I always enjoy going there to socialize and hang out with these kids (k-12 grade age). This trip was extra fabulous because we got the news that four of the children had went home to their families. Praise God. AND, we had a bigger turnout than usual. Another praise.
Free Smoothie Day! Wear Flip Flops into Tropical Smoothie today, and the 1st 100 get a free smoothie. How easy is THAT?! I'm heading that way as soon as I hit "publish"
New outfits out of old pieces - I've been following my goal this week for 8 weeks to a better me and creating new outfits from my closet. So far so good! I created 3 new outfits so far this week.
pink cami over floral dress
threw some summer sandals with a floral dress because of the brown's
threw a pink top under a sleeveless dress that I actually have listed on my SHOP my CLOSET page
Surprisingly, I don't normally wear dresses, but this week ended up being a dressy kinda week. Though one of the outfits I threw together had to do with dark denim jeans, a yellow tank layered under a black polo and topped off with yellow flats. I forgot to take a picture of that outfit. Oops!
Also, I'm entering a photo of my late Lab, and my cat Ashes into
The Paper Mama
photo competition:
B.F.4.E
XOXO