I only had two people participate and link up in Fabulous Friday last week. I really hope to get that number to grow this week. We all deserve to have fabulous things in life, big or small. And even more important we should send praises up for these fabulous thing, big or small!



So, here's mine for the week:
The robber I spoke about last week that was terrorizing home owners in my area was captured. Sadly, it ended in death. He was shot and killed by five of our cops. Ultimately, he chose his own faith. He pointed a gun at our cops. I am not AT ALL saying it was fabulous that he was shot and killed, I am saying it fabulous in the fact that I can now sleep at night. I spent a lot of sleepless lights with the lights turned on due to this. During this time I also had a security system installed. I don't regret that.
I bought some more stuff from the Family Christian Bookstore this week. Keep me out of there. Hah! Seriously, I had coupons that needed to be used. It wasn't so bad. OH, and I was super proud of myself as I carried around two items the entire trip and put them back because I KNEW I didn't really need them. I am trying to declutter my life, not add more to it, so putting these two items back made me smile and I didn't leave with regret over not buying them. Now, what I DID buy this week was:
Shirt
The shirt says: ROOTED & UNSHAKEABLE. When the winds of adversity come blowing, I will rely on your love. I will stand firm and steadfast, in your works and truth. Your roots hold me to the peaceful foundation. Thank you for my hearts salvation. My heart is confident in you. Psalm 57:7
<3
1 Corinthians 13
I CLEANED MY COMPUTER DESK! This is so fabulous because sadly stuff accumulates quickly on this desk. It sucks but even though I just cleaned it, by the end of the next week or two, it will be covered with papers yet again. BUT, for now, it's clutter free. :)
I organized my coupons. I just started couponing May 1st so I had a ton of red plums and smart source inserts since then laying around. I bought a file thingy at Walmart, and I'm off. Still not 100% but MUCH better than having them just cluttering a table!

Last night we had girls night IN. I always love girls nights. Doesn't matter if we are going out or in, just being able to hang with my favorite girls makes me happy!

I went grocery shopping! If you read my post a few days ago about eating out too much, you will understand how happy I was to be able to go get some groceries. I haven't ate out once this week. It's been all home made and I feel a ton better. Woohoo!
SO, that's a few of my fabulous, yet mundane to others, things! :) What's fabulous in your neck of the woods? Don't forget to grab a button and link up! Have a
fabulous Friday
everyone!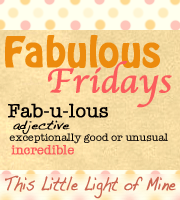 XOXO